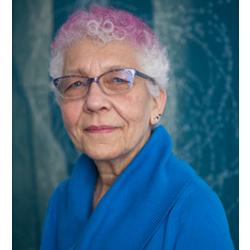 Carol L. Myers was born and raised in Baltimore, MD. Experiencing the area's lush landscape and major waterways assured her love of nature in all forms. The city also provided a rich visual, cultural, and literary history with visits to museums and libraries, and frequent trips to Washington, D.C. Her parents also surrounded her with creative activity and encouraged her interest in art as an avocation, if not a career.
 
Carol went to nursing school at Johns Hopkins Hospital and landed her first nursing job in Ann Arbor, MI. The atmosphere of the college town inspired her to follow her longtime interest in art, first with classes at Washtenaw Community College and later at the University of Michigan, where she earned her B.F.A. in Printmaking in 1976. Since graduation, she has blended art, nursing, marriage, and family.

From 1979 to 2012, Myers resided in Indianapolis, IN, and was active in the art community as a student and teacher, a docent at the Indianapolis Museum of Art, and curator of the gallery at the Cultural Complex at the Indianapolis Art Center. She has shown in many national and regional shows, several solo shows, and has participated in several cooperative galleries. Myers has prints in several museum collections and a large quilt, "Women, Why do you Weep," displayed in the Sidney and Lois Eskenazi Hospital. Leaving the hospital workplace in 1999 allowed her to focus on her studio work. Myers was awarded an Individual Artist Grant from the Indiana Arts Commission in 2000 and served on their grant review panel in 2001. Moving into the Stutz Business and Art Center, her participation in the arts community continued as Director of the StutzArtSpace Gallery, President of the Stutz Artists Association, and Chairperson of the Annual Raymond James Stutz Artists Open House 2011-2012. In recognition of her medical background and commitment to the healing nature of art, Myers was selected as Chairperson and Curator for the Stutz Artists Association Partnership with Clarian Hospitals, bringing staff, patients, and visitors into closer contact with the arts.

In 2011, Myers traveled to Santa Fe to study with Paula Roland, the first real innovator of encaustic monotype printmaking. Since then, encaustic monotype has been the focus of Myers' printmaking practice as she continues to explore, study, and innovate new ways of working within the medium. On the surface, encaustic monotype looks like a fairly straightforward process. However, it lends itself to a depth of exploration and innovation that continues to hold the artist's interest.

Currently, Myers maintains an active full-time studio practice in Southwestern Michigan. She is a member of the Southwest Michigan Printmakers group and teaches at the Kalamazoo Institute of Art, the Kalamazoo Book Arts Center, and the South Haven Center for the Arts, as well as teaching private classes in her studio. She is the Exhibition Committee Chair and Curator at the South Haven Center for the Arts and serves on the board of the Box Factory for the Arts.

Coming full circle, Myers is inspired once again by nature and close proximity to large bodies of water: Paw Paw Lake and Lake Michigan. In addition to studio work, she dreams of promoting the arts as a life enhancing activity in medical and educational settings by facilitating shows and workshops. 
 
"My work explores the internal landscape of spirit. Meditative pencil drawings explore the natural objects that fascinate me: shells, bones, fossils, bare trees, and roots; the architecture of nature. These explorations form my personal constellation of image and meaning, and my work spins off from here, becoming richer with time and repetition."

"My work invites the viewer into connection with spirit. Intimate and meditative, it creates a sacred space for contemplation. I have always believed in the healing nature of art, weaving creative expression into the fabric of my life. That belief has transformed into a deep knowing that art heals. The process of creation heals me, and I send that healing out into the world with my art."