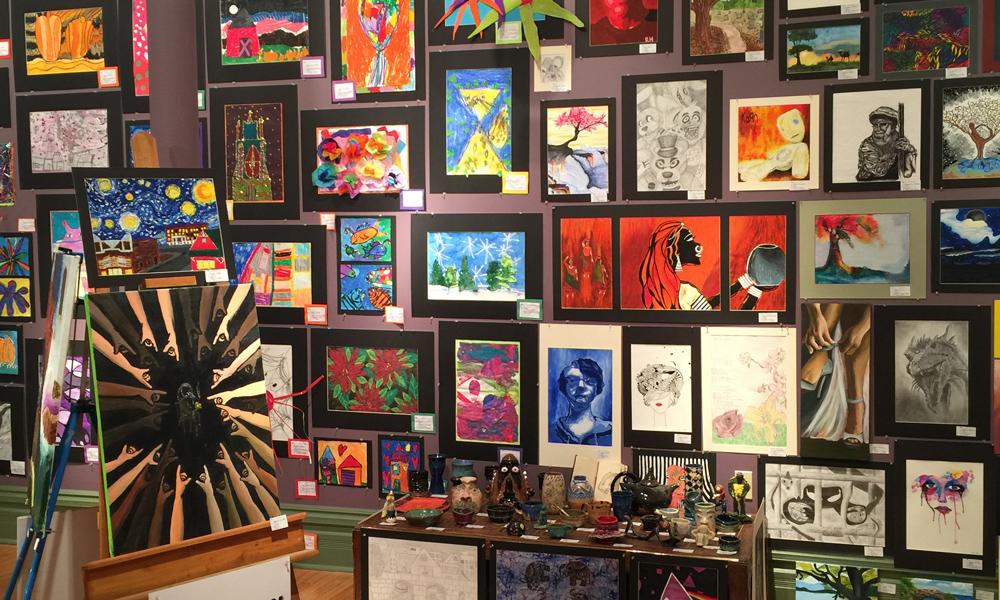 We are looking forward to our annual Youth Art Show! This is a very important community arts event, and we are grateful for all of the work that you do to cultivate creativity, exploration, skill, and confidence in our youth.
This joyful event, celebrates and showcases student art from the Charlevoix-Emmet County School District. The schedule for the spring 2019 Youth Art Show is:
Intent to Participate*
Please notify us by Friday, March 1, 2019 of your intent to participate by completing the registration form below.
 
Delivery and Installation
Saturday, April 6, 2019, from 10 am - 4 pm  and
Monday, Tuesday, Wednesday, April 8, 9, and 10 from 10 am- 8 pm

Opening Reception**
Saturday, April 13, 2019, from 2 - 4 pm
Exhibition Dates
April 13 - May 11, 2019 (posted CTAC gallery hours)
Youth Arts Awards Night**
Wednesday, April 24, 7 - 8 pm, CTAC Theater
De-installation***
Monday, May 13, 10 am - 4 pm**
Pick up
Monday, May 13, 3 - 5 pm
Tuesday, Thursday, Friday, May 14, 16, 17, 2019, 9 am - 5 pm
Wednesday, May 16, 10 am - 5 pm
Saturday, May 18, 10 am - 5 pm (all work must be pick up by this date)
Download a copy of our Youth Arts Festival invitation to give to your students.
*Once we receive your intent to participate and basic information, we will email you the label template..  
**NEW THIS YEAR! The Youth Art Show Awards will be announced at our Youth Arts Awards Night on Wednesday, April 24 at 7:00 PM in the CTAC Theater.  The following awards will be given: 
First Place: $250
Second Place: $100
Third Place: $50
Morningstar-Bates Achievement Award: $500
Louise Herlocher Award: $250
The Sally Chadwick McKenzie Memorial Award: $150

*** A group of volunteers will help with the de-installation of the Youth Art Exhibition. Work will be carefully placed, in piles, organized by school and teacher. All works needs to be picked up on the dates listed above, and no later than 4 pm, on Saturday, May 18, 2019. 
Thank you so much for the work you do everyday! Please contact us if you have any questions or concerns. We look forward to meeting you this Spring!