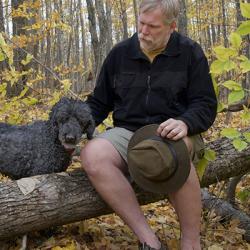 2313485301
Spring Lake, MI
"Take 5" with Robert DeJonge
1. Name three artists who inspire you and why.
Paul Klee — Master draftsman, colorist, compositionalist — but he seldom let his technical expertise outweigh his power of imagination, whimsey, dreams

Paul Cezanne — Love his color fields and subject matter

Paul Simon — Love the fact that he is an incredible explorer — always looking for new sources for inspiration and willing to take risks with his style and delivery of music
   
2. What is the most essential thing in your studio?
Equipment — a computer that lets me play with images
Inspiration —  My collection of toy airplanes that remind me to keep dreaming like I did as a child
         
3. What is your favorite studio playlist?
Anything May Erlewine or Paul Simon

4. Is Social Distancing impacting your creative practice?
It's kept me closer to home for subject matter — I've found that being "limited" in some way has benefits — challenges me to look at things in a new way

5. Where's the first place you're going to go once the Stay-at-Home order is lifted?Immediate — probably to church to connect with my spiritual family
longer term — Africa — looking for people who will inspire me
View Robert DeJonge's recent collaboration with local musicians of Boundarywater.
https://www.youtube.com/watch?v=K6bfyGFWSJI&feature=youtu.be
Statement
"With the eyes of a child" is a predominant methodology in my work as an artist. Using a camera and computer, I try to build images that express a spirit of wonder.
I also enjoy drawing from the deep well of art history. I am especially inspired by the magical world of Paul Klee, the lyrical world of Chagall, and the natural connections of the Group of Seven.

A Short Bio
I am a native Michigander who has been working as a designer and photographer/digital imager for over forty years.
I graduated from Calvin University in Grand Rapids with a degree in art (1978).
I have studied with noted photographers, including Ernst Haas, Freeman Patterson, Stephen Johnson, and John Paul Caponigro. 
I have participated in five artist-in-residence programs — Sleeping Bear Dunes National Lakeshore, Acadia National Park, Petrified Forest National Park, Porcupine Mountains Wilderness State Park, and Isle Royale National Park.
Noteworthy Recognitions
• I was awarded a solo show at the Crooked Tree Arts Center in Petoskey, Michigan, in the Fall of 2013.
• The December 2014 issue of Traverse Magazine did a feature article on my work.
• In 2016, I published a hardcover coffee table book of my work that features Sleeping Bear Dunes National Lakeshore — available in many Northwest Lower Michigan bookstores (including Crooked Tree Art Center, Somebody's Gallery, and McLean and Eakin), and at robertdejonge.com.
• In 2019, I received both a juried award and People's Choice Award at the Kalamazoo Institute of Arts — 2019 West Michigan Area Fine Arts Show.
• I have been awarded many honorable mentions and top three artworks in regional fine art exhibits in the last ten years.
• My work can be found in many private and corporate collections.
• My work is currently being represented at the Uptown Gallery in Holland, Michigan and online at robertdejonge.com