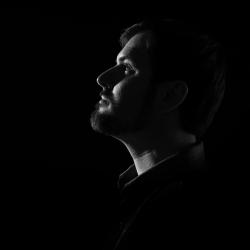 248.219.8427
Suttons Bay, Michigan
Artist Statement:
Beneath a thin envelop of atmosphere wedged between molten rock and the cosmos, the cycle of life turns in perpetual motion, consistent with the rotation of the planet. A silver crescent moon hangs high over the reticent solitude of the dunes below, as night succumbs gradually to morning's sonata. Dawn breaks, casting a golden veil of light over the rippling sands, washing the landscape of her pensive Nocturne. Here I find myself fully present, awake and in tune with the universe, striving to compose this immense feeling into a single frame, an arrangement of feelings, shapes, textures, and tones commonly referred to as "The Photograph."
My work is not just an artistic expression; it is a holy commune between the soul and the fabric of life. It's a space that, when entered, awakens my consciousness, and like the unconditional, unspoken love between a mother and her newborn child, it is an invisible energy that connects me with my true self. Seeking not to capture, but convey the world that I witness. Striving not to take, but to engage, through a collaborative effort with my subject. Cooperating to convey a sense of beauty or vast reflection. Distilling a single moment or span of time into a single frame.
Although I seek to share my experiences and awaken others through my work, what I do, I do first for myself. With an innate desire to explore, ramble and escape societal conformities, my work has provided me with sanctuary in an often- overwhelming and intrusive world. For me, it's quite like John Lennon's "There's A Place," through my art, I can escape inside my mind and seek refuge from the suffocating cacophony of modern times. Alone with my camera, I seek out quiet solitude, minimal stimuli, and awareness of my fundamental senses. I have come to require this experience much the same, as one requires food, water, and sleep.
I find great fulfillment and pride in the work I do, and to state that success and critical acclaim are not amongst my desires, would be to deny truth and honesty, and frankly, there's enough of that going on in the world already. That said, artistry, for me, is not about title, status, or honor. It is not a badge of merit or a trophy to be placed upon a shelf; rather, for me, the reward is in the moment, the process, and the action.

Won't you walk with me in solitude and solidarity as I share my collaborative efforts with the landscape with you?
Biography:
Born 1976 - Livonia, Michigan, USA - Currently lives in Suttons Bay, Michigan, USA
1996-97 - Graduated with Honors, Specialized Associates Degree, Film/Video Production - Full Sail University, Winter Park, FL
1994-95 - Advanced Radio and Television Career Center Course , Churchill High School, Livonia, MI
1993-94 - Black and White Photography Course, Churchill High School, Livonia, MI
Awards:
2020 - CTAC - PHOTO2020, Juried Photography Exhibition, 3rd Place
2019 - International Photography Awards, 3rd Place - Analog/Film Landscape
2019 - International Photography Awards, Honorable Mention - Analog/Film Landscape
2019 - Monochrome Awards, Honorable Mention - Amateur, Landscapes
Select Solo Exhibitions:
2013 - Huron Valley Council for the Arts
Select Group Exhibitions:
2020 - CTAC - PHOTO2020, Juried Photography Exhibition
2019 - Dennos Museum, Northwest Michigan Regional Juried Exhibition
2013 - Michigan Fine Arts Competition, BBAC
Publications:
On Landscape - Issue 182, 2019
On Landscape - Issue 173, 2018
The Nature Conservancy - Giving to Michigan "Cover" 2018
The Nature Conservancy - Field Notes from Michigan - Fall 2017