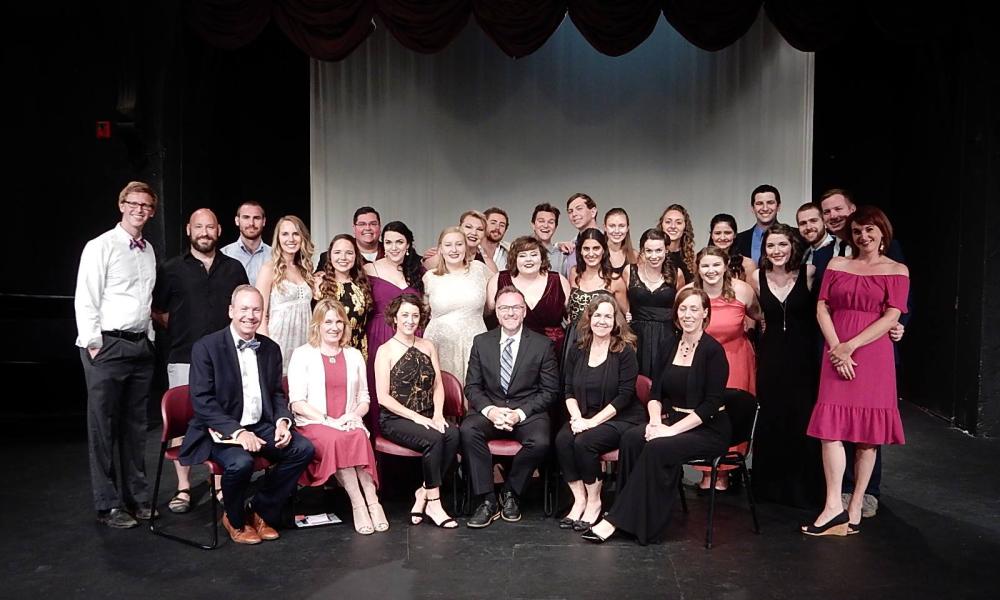 The Up North Vocal Institute (UNVI) is a summer young artist training program that will focus not only on training the voice, but the mind and body as well. Utilizing a team teaching method of four 'master voice teachers' and four pianist/collaborative artist coaches the participants will also work with an exercise and nutrition specialist while attending the program. Join us this summer on the shores of Lake Michigan in beautiful Boyne City!
2018 UNVI Season: June 23-July 22
With performance locations from Mackinac Island to Boyne City, don't miss the talented young artists of the Up North Vocal Institute this summer! All events are free of charge and open to the public.  Thank you to Shepler's Mackinac Island Ferry for our Grand Hotel performance transportation!
 
UNVI 2018 Performance Schedule

| Date | Time | Location |
| --- | --- | --- |
| Friday, June 29 | 7:00-8:00 PM | Odmark Pavilion, Charlevoix |
| Sunday, July 1 | 11:45 AM-12:45 PM | Grand Hotel, Terrace Ballroom, Mackinac Island |
| Friday, July 6 | 7:00-8:00 PM | Crooked Tree Arts Center-Petoskey |
| Saturday, July 7 | 7:00-8:00 PM | Harbor Park, Harbor Springs |
| Sunday, July 8 | 3:45 PM | Great Lakes Center for the Performing Arts, Bay Harbor |
| Wednesday, July 11 | 7:00-8:00 PM | Old City Park, Boyne City |
| Friday, July 13 | 7:00-8:00 PM | Crooked Tree Arts Center-Petoskey |
| Saturday, July 14 | 6:00-7:00 PM | Crooked Tree Arts Center-Petoskey |
| Friday, July 20 | 7:00-8:00 PM | Crooked Tree Arts Center-Petoskey |
| Saturday, July 21 | 7:00-8:30 PM | Crooked Tree Arts Center-Petoskey |
---
Voice Faculty
Matthew Chellis - Tenor, Associate Professor of Voice University of Colorado Boulder - General and Artistic Director, UNVI
John Seesholtz - Baritone, Associate Professor of Voice Colorado State University
Julie Simson - Mezzo-Soprano, Professor of Music Shepherd School of Music at Rice Univsersity
MaryJean Allen - Soprano, co-author of "What Every Singer Needs to Know About the Body"
Rebecca Simone Schorsch - Lecturer in Voice, CCPA Roosevelt University - Director of Scenes
 
---
Coaches
Dana Brown - Associate Professor of Opera and Vocal Coaching, CCPA Roosevelt University - Co-Artistic Director, UNVI (On sabbatical for 2018)
Jeremy Reger - University of Colorado Boulder
Elizabeth Avery - University of Oklahoma, Coach
Shannon McGinnis - Roosevelt University, Coach
Ben Harris - Vanderbilt University, Coach
Stephen Uhl - Pianist/repetatur
 
---
2018 UNVI Tuition
$4120, payable in 4 installments as follows:
$500 deposit - April 15, 2018
$1200 - May 1, 2018
$1200 - June 1, 2018
Final $1220 due June 10, 2018